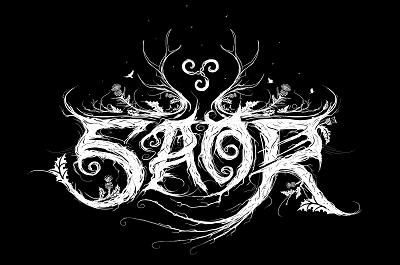 SAOR – Guardians
Genre – Atmospheric Black / Folk Metal
Release date – 11th November 2016
Lineup :-
Andy Marshall - All music and instruments except those below
Session musicians
Bryan Hamilton – Drums
John Becker – Strings
Meri Tadic – Fiddle on "Guardians" and "Hearth"
Reni McDonald Hill – Bodhrán on "The Declaration"
Kevin Murphy – Highland bagpipes
Tracklist – 1. Guardians 2. The Declaration 3. Autumn Rain 4. Hearth 5. Tears Of A Nation
If you have any interest at all in atmospheric black or folk metal then you'll have heard the name Saor and most likely also heard much praise and high regard for this one man project from Scotland. Andy Marshall, the man behind the band, has a fair amount of experience to draw upon having been involved with a number of other bands both before and after the birth of Saor and it's fair to say that Saor is where this experience, not to mention huge amount of raw talent really comes to fruition. The first two albums delivered a stunning and powerful display of folk infused black metal with an atmospheric depth going way beyond that which most bands ever achieve, and with the third album Guardians now waiting in the wings set for release through Northern Silence Productions it's safe to say that there'll be a lot of people looking forward to this.
They're not likely to be disappointed either, Andy shows no sign of faltering and the first song and title track opens confidently with acoustic guitar and bagpipes leading into the album. You can feel the potency of this music even at this early stage, creating a proud and powerful atmosphere well before the guitars kick in, which they do a couple of minutes in. Even with the pace and intensity picking up at this point it's clear that Saor is all about the mood, the feel, the atmosphere and calls upon you to take in and absorb this. The metal ingredients aren't diminished, don't get me wrong here, you'll still hear the riffs, the pounding rhythm of the drums, the harsh vocals but it's striking just how well these work in harmony with the atmospheric and folk elements, both working with and drawing out the other. Second song "The Declaration" opens more aggressively, cascading riffs and rapid fire drums soon joined by strings as the album continues to cast its spell. Again the balance between the different aspects is placed to near perfection, it's a song full of surprises as black metal takes off into soaring majestic soundscapes before coming smoothly back down to earth. You'll notice throughout this album that musically Andy is constantly upping his game from start to finish, there's moments on here which will leave you breathless and you won't even have finished taking those in when the next twist comes and elevates things even further.
"Autumn Rain" continues in mellower fashion, strings and acoustic guitars playing a prominent role in building up the early parts until the vocals kick in, these harsh vocals being more pronounced here yet still wrapped up in the overall soundscape, guitars and strings taking a bit more of a back seat but still working their magic. Out of the five songs on here this one takes a somewhat more conventional approach than the others and you'll hear contrast between the more traditional black metal style employed and the folky ambience, the song shifts sharply between the two to good effect. By the time the fourth song "Hearth" plays you will without doubt be fully immersed in the rich and vivid atmosphere Saor has created and the album still continues to bloom, the music at this point becoming yet more intricate and complex and new ingredients still coming in, the fiddle plays a key role and in addition you'll hear clean vocals employed for the first time here. You're left wondering constantly just where Saor will take this next as you try to absorb everything that's going on, something which will take many, many listens to fully achieve. Towards the middle parts of this song things drop off into a simpler, more minimalistic section where acoustic guitar leads the way, it's a stark contrast to the parts leading up to it but gives a well injected spot of breathing space before building back up again. Finishing off, "Tears Of A Nation" shows itself to be a spectacular finale by anyone's imagination, you may consider "Hearth" to be the peak the album builds to but at this point it launches itself skyward and soars magnificently, bringing the listener back down to earth gradually in a final epic display. Sure, it's grandstanding, but when it sounds this good why wouldn't you? This is a final exclamation point, a culmination of a dazzling showcase of masterful composition and musicianship and by the time it's done I'm sure many a jaw will need picking up from the floor.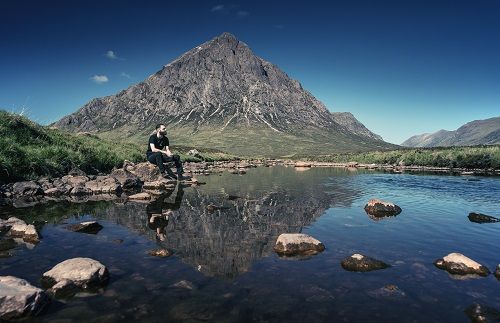 It's worth mentioning before I finish that, as you might expect, Andy draws upon his Scottish roots for a lot of his musical and lyrical inspiration and works of renowned Scottish writers and poets such as Robert Burns and Sir Walter Scott feature heavily in the lyrics of Guardians. There's clearly a great deal of cultural influence showing through here, reflected in the lyrics but more significantly the music itself which brings to life the Highland landscapes, nature and reminds us of the deep history of the nation. Saor's music taps into this wellspring and allows inspiration from it to seep through into every corner of the sound of Guardians. We do live in times where cultural expression and pride in one's roots is at times met with scorn, my view is there's simply right and wrong ways to go about it. This is the right way. Artistic creativity which allows those cultural influences not only to be expressed but to be appreciated by others regardless of their own roots and background in a form which normal language cannot convey. After all, the world is not monochrome, each part of it is full of stories and history and where it would once have fallen to bards and minstrels to tell these stories the role now falls in part to contemporary musicians. We hear it from bands such as Forefather and The Wolves Of Avalon here in England, Primordial and Mael Mordha in Ireland, as far as Israel and the Middle East with bands such as Melechesh and Orphaned Land and of course many, many Scandinavians. I've perhaps digressed a bit from the music but it is worth stating, at least in the context of this album. Without this inspiration Guardians simply would not work, at least not in this form.
That point aside, all in all it's safe to say that Saor has truly delivered a hugely impressive and absolutely essential album with this third effort. You've no doubt figured this out by now, Guardians left one hell of an impression here, and while I wish to take absolutely nothing away from Roots and Aura, Saor's previous works I get the feeling that this is the album Andy has wanted to make for a long time, possibly his entire life. This is the coming together of music, inspiration, culture and tradition, shaped and moulded by gifted hands into something that transcends all of those things, and it's an album which cannot fail to impress just about any fan of atmospheric metal in general. We already have some extremely strong players in this area anyway, now is certainly a good time to be into it and with Saor significantly raising the stakes it just got even better. We've been presented with an incredible listening experience here, one I can find very little to find fault with and as such I have no qualms in giving this the following mark.