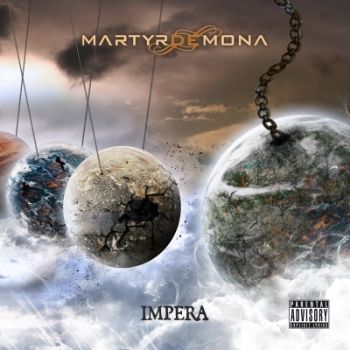 Martyr De Mona - Impera (Eagle Two Records)
Genre
- Hard Rock/Metal
Release Date
- March/April 2014
Available
- Free Download from the FB page/CD
Track Listing
- 1.Siege Mentality, 2. Influence & Persuasion, 3. Reprisal, 4. Sentient, 5. Impera, 6. Nothing Sacred, 7. Gravity Breaks, 8. KYO, 9. Suffer Unto Me, 10. HollowShore
Martyr De Mona
are;
Louis Hale - Vocals / Guitar
Ant Rickett - Guitar / Vocals
Joshua Wooldridge - Bass / Vocals
Ashley Leatherland - Drums
Martyr De Mona have been a bit busy. Supporting bands their peers would fight to open for; Guns N Roses, Sabbath, A7X and Alter Bridge. The band, from The Midlands, have taken their affairs in house with their own label and are looking forward to a bright future, safe in the knowledge that their ever growing fanbase will be there to support them.
Impera
presents an opportunity to **** on the proverbial lampost and remind the scene of their presence.
A subtle piano opening graces the first 40 odd seconds of
'Siege Mentality'
before a skipping drum beat and crunching riffs present themselves across the rest of the track. Louis Hale peels in with a superb rock voice that is prevalent in some of the most popular acts in the industry, he could have fronted A7X with that voice.
'Influence and Persuasion'
kicks in with a groovy but heavy riff, that lightens up but becomes more melodic as the track develops. A nice solo drops in the final third of the track. It's a great track that could grace the compilation of any worthy Rock mag.
'Reprisal' opens with some cool guitars and synths. The intro slowly builds with the percussion coming in with precision. Crystal bass lines open up a groovy, laid back track. The riffs speed up momentarily and the drumming moves into blast beat at times but this in bursts and doesn't take away from a really atmospheric track. Some technical Pantera-like groove in the middle mixes the track up while Louis keeps a melancholic feel to the vocal.
'Sentient'
starts life off as a ballad, cool as you like. The vocal is exposed on this track so it's a good job Louis can sing. The pace stays steady but tension is added through guitars and percussion steaming in. It's melody throughout but the riffs take an 'evil little *****' edge to them halfway through which makes pain a feature of the playing, and those that get the title will understand the change from the gentle to the harsh.
'Impera'
brings the groove and melody back to the fore. I love the backing vocals on this track, venemous but distant, adding an undercurrent of f**k you. By now you should be familiar with a couple of things. The eloquent skill of skin man Ashley which is pinpoint and brings the whole of the band together. Also the riffing changes from cool and laid back to demonic sounding at the drop of a hat. And there's more of the same on
'Nothing Sacred'
although the pace picks up a bit. The track is no less melodic, in fact it's bursting. The vocal adds a hint of angst.
Some of those that have really made it in the industry and are just coasting along until they peg it, have announced that Rock is dead. Bollocks. Rock has taken a different turn to the camped up hair metal of the 80's and taken on a sophisticated sound that compiles the best elements of different sub genres. You can hear some of the mid 80's to late 90's bands coming back with a modern hue to their songs. Soundgarden for instance on their last album. MDM are no exception and when you listen to
'Gravity Breaks'
you will understand what I'm banging on about. A cool opening with a drum line so laid back it could be sunbathing, the guitars move into a heavier, but still subtle sound. The middle of the track has prog like odd signatures before a sweet solo envelopes. The vocal is really together. The overall feel is of a modern day metal band when they slow it down. The songwriting is clever and Louis doesn't sound like he's dressed in spandex and ready to go do some tediously naughty stuff on the tour bus. This is grown up, intelligent rock.
Moving into the last 3 tracks and
'Kyo'
smacks of groove and melody. Hook laden, riff after riff comes along with that heavy groove sound. The Bassman has a bit of glory before the rhythm guitar pipes in again. The vocal starts off nuetral but despair builds in the voice, Alice In Chains style, taking it up along with a great lead riff.
'Suffer Unto Me'
starts with a nice picked section before a great slab of melody pours out of the guitars. This is one great example of the classic grunge sound snapped right up to date with a lower guitar hit and outstanding production.
The final track is a culmination of all that I've been spouting about up to now. The opening to
'Hollow Shore'
is brilliant. A slow and sweet picked guitar section before the track ever so lightly starts to lift to a despairing rock ballad. The pace ticks along nicely while the dulcet tones of Louis melt through. Another cool guitar piece before it all kicks off. The best part of the whole album is the solo on this track. Don't get me wrong, the album is absolutely mesmerising but the solo just infused my headphones with my ears. My neck hairs stood up. What comes next is a riff assault weighted heavily with groove. It's a longer track but every second is used to create a stunning slow tempo, high melody track.
I don't think I'm going to give a rating like I normally do. I've had the absolute pleasure to hear some stunning albums over the last 12-18 months. I have picked favourites in a number of Sub Genres. This is one of the best albums I have heard this year. That includes mainatream too. It has some of my favourite elements of rock and metal; Angsty, despairing vocals, heavy, groove led guitars and crystal drumming that pierces through on every track. And that solo...........
Oh go on then, I can't help myself. This is the easiest
10/10
I have ever considered not giving???
legalalien
@ Black Phoenix Rising