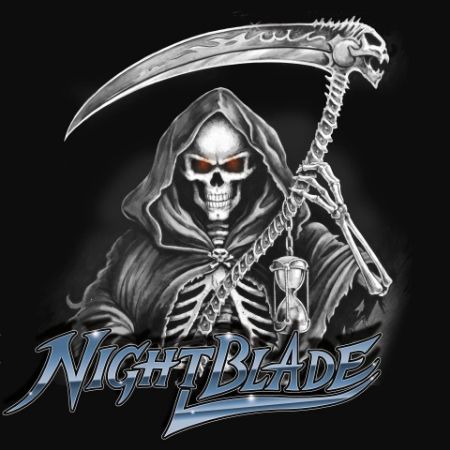 Here's another of our Exclusive BPR interviews for your reading pleasure
This time i caught up with Dave Parrish, Guitarist of Birmingham's own Heavy Metallers NIGHTBLADE for a chat about the bands new album, their plans for the rest of 2013 and much more ... enjoy
Hails Dave, welcome to the next of our BPR band interviews. Thanks for taking to the 'hot seat' to answer our questions and for your support of the forum, much appreciated !!!

SeventhSon (BPR) : For any of our members who are not familiar with Nightblade could you introduce yourselves ?
Dave Parrish (Nightblade) : Hi yes ..Mark Crosby ..vocals ..Billy Fitz ..bass ..Rich Lawley ..drums and Dave Paz guitar.
SeventhSon : How would you best describe the bands sound ?
Dave : We try to get the NWOBHM sound from the 80s but try and get an up to date quality ...both live and in the studio.
so die hards and new Metalheads would appreciate us.
SeventhSon : When were the band formed and how did you decide on the name Nightblade ?
Dave : The band was formed in 2010. I (Dave) had finished a project and was looking to start something up,my brother had contact with Bill and we got together and put an ad in rich ***** studios for a vocalist where Mark answered the call. Three drummers later we finally got the last piece of the jigsaw in Rich Lawley. As for the name ? Well, every name we came up with we googled and there was usually a band already with that name. I wanted us to be called "Kevin the pigeon" but Bill came up with the name Nightblade, and we all seemed to like it.
SeventhSon : Which bands would you say are Nightblade's biggest influences ?
Dave : Well we all love Maiden, Metallica Black Sabbath and the NWOBHM from the early 80's like Jameson Raid etc. Mark likes Alter Bridge, etc so we are influenced by all of these bands in some form.
SeventhSon : The band released their second album 'Closer To The Threshold' earlier this year, how has the album been received by fans and the music media ?
Dave : Yes, its came over very positive as a big improvement from our debut album "Servant To Your Lair" and reviews have been great. We are glad of good and bad criticism for us to keep improving. We have also jumped into bed with "Skyfire PR" who have signed us up to work on our behalf to promote the album world wide ie in the media and air play etc and gigs.
SeventhSon : Did you find the whole recording process easier or harder than it was for the 'Servant To Your Lair' album ?
Dave : Easier, as we knew the pit falls on the first album. We feel the new tracks were stronger and our engineer "woody" also improved our sound as we took longer on production, thou we always work hard on rehearsals so everyone knows there part. Which makes the most of studio time
SeventhSon : How would you think the albums compare and have you got a favourite out of the two ?
Dave : The first album was NWOBHM and there are some great songs that we always play live. The second album, we feel, is more creative and we also have Rich Lawley (new drummer) on this album and he drives us on. So i'd say for now the second album is the one I play more on my car stereo but we have plans for an even better album number 3 !!
SeventhSon : Which of the bands songs do you most enjoy playing live ?
Dave : I personally like playing the title track "Closer To The Threshold", a real chugger, and from the debut album we all like to play
"Jekyll and Hyde" and "Suspended Reality ", we always open the set with those two tracks.
SeventhSon : What would you say is the best part of been in a band and what is the worst ?
Dave : Writing tracks and then seeing and hearing them on an album is pretty cool and in 2012 we did a 7 date UK tour staying in hotels traveling in a clapped out van living the dream!! We have all been in bands back in the day where someone has got an ego or gets arsey, but we are now old enough and ugly enough to surpass all of that and we can tell it like it is without too many strops.
SeventhSon : What are Nightblade's plans for the rest of 2013 in terms of gigging, writing new material etc ?
Dave : We are currently writing and rehearsing new material for the studio in December and have a few gig commitments left
before spending as much of 2014 on a gigging frenzy !!
Now a few questions just for fun ....

SeventhSon : Have you got an 'all time' favourite Metal/Rock album ?
Dave : Tough one !! The first 5 Black Sabbath albums , the "Black" album from Metallica, some of Maiden's albums , "Burn" from Deep Purple ... so no not really , too many great albums to choose from !!
SeventhSon : Which is the best Metal gig you've ever been to ?
Dave : Another tough one !! I'm old enough to have seen Black Sabbath, Kiss, ACDC, Van Halen and Thin Lizzy at the Birmingham Town Hall and the Odeon Birmingham. When Van Halen came over to support Black Sabbath in the late 70's, nobody had seen anything like it so that gig sticks in my mind along with Kiss at the Birmingham Odeon and meeting Phil Lynott back stage at theBirmingham Town Hall.
SeventhSon : If the band were to do a cover version which song would you choose and why ?
Dave : We always mess about with "Rock Bottom" from UFO or Judas Priest's "Living After Midnight", two classics, so if we had to one of them tracks would possibly come out. But saying that we usually like to leave covers to the tribute bands !!
SeventhSon : If Nightblade could play at any of the top Metal Festivals which one would you choose and why ?
Dave : We would like to do Wacken or any festival in Europe really as we feel the NWOBHM is more popular over there or Brofest in Newcastle where all the NWOBHM legends come together.
SeventhSon : Finally, have you got a few words for the members of BPR ?
Dave : Just a big horns up
Keep supporting original Metal music and get out there and support the venues to keep bands playing, and to keep flying the flag. And a big thanks for reading and supporting web sites that promote all Metal/Rock.
SeventhSon : Thanks again for answering our questions Dave and i wish you and the rest of Nightblade all the best for the rest of 2013 and i'm certainly looking forward to hearing what you come up with for album number three !! All the Best and Keep It Metal
For more info on Nightblade visit their website @
http://www.nightblade.co.uk